Business Process Management (BPM) Software
Business Process Management Software
It is a management system that increases the performance of organizations by optimizing the stages of all processes of an organization from the beginning to the end and how to manage. Business Process Management improves the efficiency and effectiveness of organizations. It is implemented by creating a traceable and controllable technology for the automation of corporate processes, production and distribution of the product or service. Repetitive transactions; It takes place in a certain order and order. Missing data and timing errors are eliminated.
System; It accelerates business management that tries to be provided with classical communication methods. Time management takes place in the most optimum way.
In addition to monitoring the conclusion of the recorded process, reporting is also provided. With the reports, defects are detected and improvement is made.
These operations
workflow
is managed by drag & drop, and
low code
and logical transactions are performed by business units.
It can communicate with other systems over protocols such as Web Service, Rest Api, Soap Service, Google Drive, Office 365, SSO (Single Sign On), Active Directory and Cloud Integrations.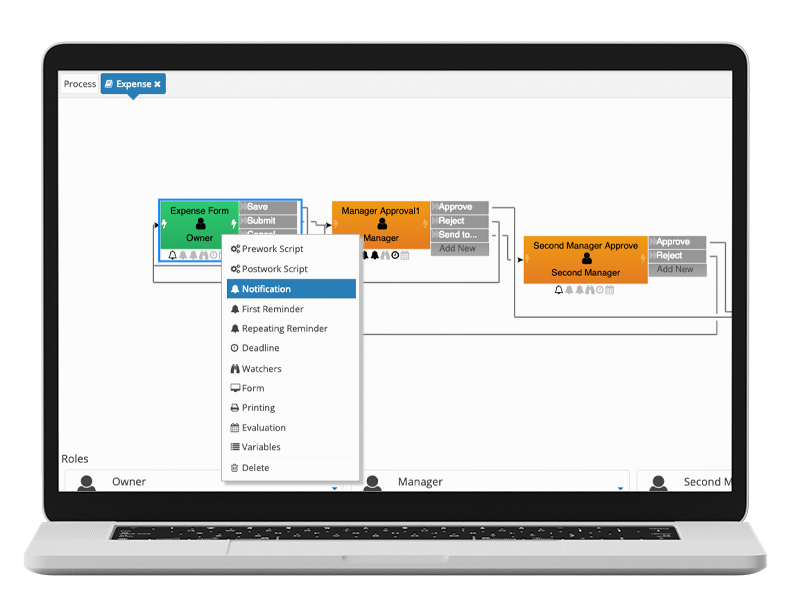 With Business Process Management
❖ Managing processes with Low Code
❖
Optimize
doer
❖ Increasing performance
❖
360 degree
providing control and single center management
❖ Improving the efficiency and effectiveness of organizations
❖ You have a structure that contributes to the automation of corporate processes.
Advantages of Business Process Management
❖ Better Control and faster decision making
❖ Better customer relationships
❖ Quicker job completion
❖ Easier
data management
❖ Lower cost and higher added value
❖ Higher quality and reliability
❖ More concrete and measurable results
❖ Higher employee morale and motivation
❖ Easy Process designs with less Javascript coding.
❖ Faster copying processes.
❖ Use of processes in multiple languages for each user.
❖ Having Flexible Architecture.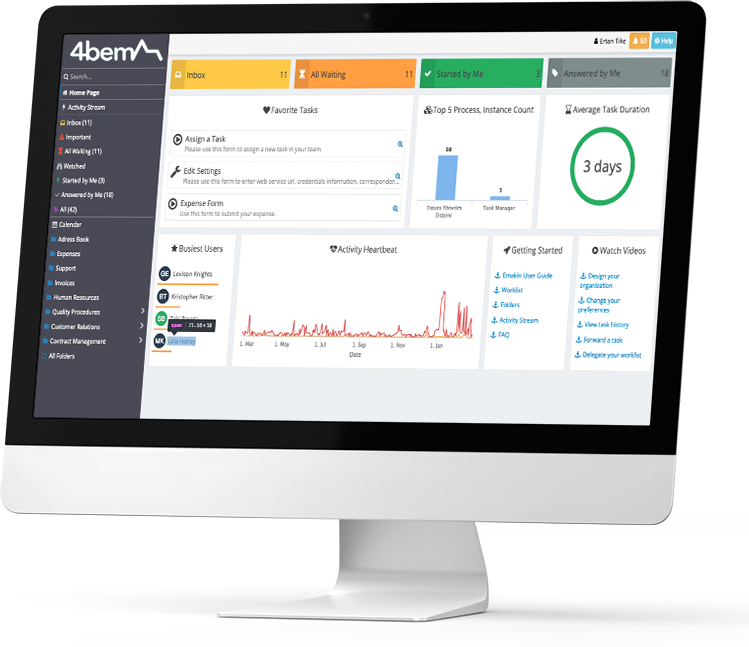 Click for the presentation.
Technicial Specifications :
❖ Process management - Task Delegation, Routing according to task-based rules, Detailed logging of workflow history, Assigning the same task to multiple users or roles, Prioritization of tasks in work lists, Planning of repetitive processes, Dynamic sub-workflows depending on data, Task time analysis for process improvement .
❖ Forms - Support for any browser, including mobile devices, User comments related to the topics, Over 40 interface controls for any need, Master-Detail or nested layout data entry, Customizable printouts, Rule-based form validations, Rule-based form design Rich text editor with copy / paste support including images, Template controls to reuse form parts, Client-side script execution, Digital signature support for attachments or data, Data export and import for spreadsheets, Graphical Pie
❖ Data - Advanced database models for businesses, Automatic database models distribution with change tracking, Multi-language for database columns, High performance and scalable native XML database support, XQuery 3.0 based query support. No SQL, Access to historical process data, General repository for form attachments, Revision tracking, Full text indexing, Creating PDF or HTML documents from templates, Archiving documents related to business objects.
Our Ready Products:
Leave Request, UETS (E-notification Process), Advance and Expense, Document Archive, Message Management System, Personnel Affairs, Contract Management, Suggestion System, Personnel Affairs Management, Customer Complaints, Help Desk, Loan Request, Incoming Outgoing Documents, Approval Process, Official Correspondence Process, Quality and Risk Assessment Processes, Operational Processes, Annual Plan Resource Distribution, Supplier Evaluation, Invoice Management System, Asset Management, Personnel Leasing, Project Management KEP E-Correspondence, Travel Process Management, Device Tracking Process, Marketing Processes, HR Processes (recruitment, performance management, agency tracking), License Management Process, Facility Management Process, Operation Processes, Customer Service Processes, New Product Processes, Signature-Approval Processes, Store Opening Process, Job Application Evaluation Process, Training Request Process, Document Archive, Signature Processes, Quality and Risk Assessment Processes, Inventory Tracking Processes, Physical Archive Process, EFT Processes, Loan Application Process, Client G A Process In Which Proforma Calculation Based On Attorneys At The End Of The Process At The End Of The Conflicts And Cases,
Potential Sectors:
Finance and Banking, Insurance, Retail, Education, Audit, Health, Manufacturing.
References :
Ülker, TEB, A101, Güneş Sigorta, Süvari, Eczacıbaşı, AEGON, Pension Monitoring Center, Vakıfbank, QNB Finansbank…