Intelligent Reporting with Business Intelligence
Intelligent Reporting with Business Intelligence
The focus is on strengthening the decision-making systems of institutions and increasing their efficiency by ensuring that data is transformed into correct information in a timely manner with solutions that accelerate the analysis processes.
Employees of the institution strengthen their decision support systems and increase their efficiency by analyzing their data better. Data and information is software that works in the web and mobile environment that can be understood and easily shared by all units and employees of the institutions.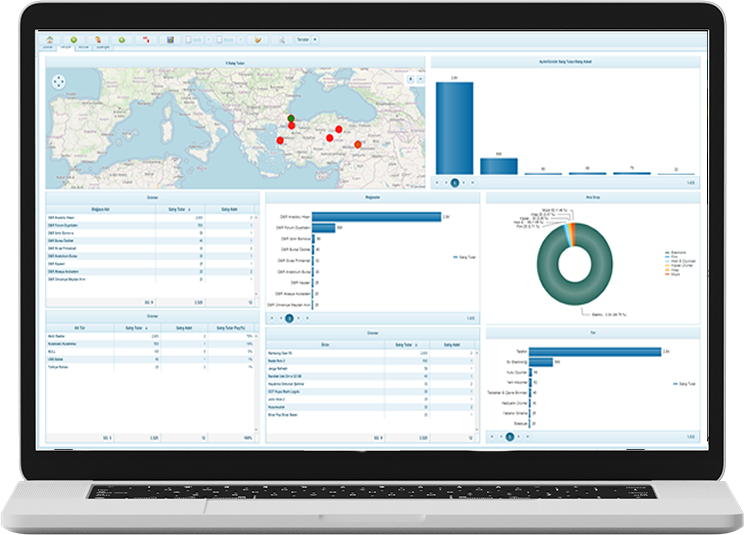 Click for the presentation.
Management Screens with Business Intelligence and Smart Reporting Advantages
❖
In your project
You turn two scattered raw data into meaningful reports. You see the big picture.
❖ From the summary reports, you can access the reports containing the smallest details at any time.
❖ You use a single screen with an easy interface. You can customize reports (Turnover, Received Check, Revolving Check, Risk, Balance etc.)
❖ You can take data from Excel, consolidate and report it.
❖ You can transfer the data you get from Excel into tables and make any filtering and queries you want.
❖ You can watch the reports on mobile.
❖ Easily
geliştirilebilir
and be customizable.
❖ Cost is appropriate in terms of product and consultancy.
Potential Sectors:
It is used in various industries such as transportation, banking, retail, medicine and healthcare.
The most used area is the sales reporting and performance monitoring areas in the sales organizations of the companies.
References
Asset Grup, Aydın Saat, Kuzeymak, Motoran, Adnan Akat Cosmetics, 2M Makina